Statewide Council on Human Trafficking
Introduction
Attorney General Moody is committed to make Florida a zero-tolerance state for human trafficking. Since taking office, Attorney General Moody has formed multiple initiatives to fight this atrocious crime, from launching the Highway Heroes Campaign that aims to train Florida truck drivers to spot trafficking to creating the 100 Percent Club to recognize Florida businesses and organizations taking steps to train their employees on the signs of human trafficking and more. Her Office of Statewide Prosecution holds a nearly 100% conviction rate in human trafficking cases.
Attorney General Moody also serves as Chair of the Statewide Council on Human Trafficking. The 15-member Council includes law enforcement officers, prosecutors, legislators, as well as experts in the fields of health, education, and social services. The Council was created through legislation passed and signed into law in 2014.
About Human Trafficking
According to the U.S. Department of State, there are an estimated 24.9 million victims of human trafficking worldwide at any given time.Victims of human trafficking include children, women, and men who are subjected to sexual exploitation or forced labor through force, fraud, or coercion. Human trafficking knows no borders whether physical or virtual. It is a heinous crime that is a threat to our communities.
Council Duties
The Statewide Council on Human Trafficking was created for the purpose of enhancing the development and coordination of state and local law enforcement and social services responses to fight all forms of human trafficking and to support victims.
Council duties include:
Develop recommendations for comprehensive programs and services including recommendations for certification of safe houses and safe foster homes.
Assess the frequency and extent to which social media platforms are used to assist, facilitate, or support human trafficking within Florida; establish a process to detect such use on a consistent basis; and make recommendations on how to stop, reduce, or prevent social media platforms from being used for such purposes.
Make recommendations for apprehending and prosecuting traffickers and enhancing coordination of responses.
Hold an annual statewide policy summit with an institution of higher learning.
Work with the Department of Children and Families to create and maintain an inventory of human trafficking programs and services in our state.
Develop overall policy recommendations.
Council Members
Attorney General Ashley Moody, Chair
Secretary Shevaun Harris, DCF, Vice Chair
Surgeon General Joseph A. Ladapo, DOH
Secretary Jason Weida, AHCA
Commissioner Manny Diaz, Jr., DOE
Secretary Eric Hall, DJJ
Commissioner Mark Glass, FDLE
Senator Ileana Garcia (Senate Appointment. Term Expires: June 30, 2024)
Representative Toby Overdorf (House Appointment. Term Expires: June 30, 2024)
Sheriff Chad Chronister, Hillsborough County (Attorney General Appointment. Term Expires: June 30, 2024)
State Attorney Amira Fox, 20th Judicial Circuit (Attorney General Appointment. Term Expires: June 30, 2024)
Jennifer Collins (Attorney General Appointment. Term Expires: June 30, 2024)
Terry Coonan (Attorney General Appointment. Term Expires: June 30, 2024)
Lieutenant Governor Jeanette Nunez (Governor Appointment. Term Expires: June 30, 2026)
Jeanette Rubio (Governor Appointment. Term Expires: June 30, 2026)
Meeting
Date
Location
Details
Services and Resources Committee Meeting
January 12, 2023
1:00 PM
Teleconference
Agenda
Legislative and Special Initiatives Committee
January 30, 2023
10:30 AM
Teleconference
Agenda
Statewide Council on Human Trafficking
January 30, 2023
1:00 PM
Video Conference
Agenda
Education and Awareness Committee Meeting
April 11, 2023
1:00 PM
Video Conference
http://myfloridalegal.com/webfiles.nsf/WF/MNOS-CQSHNQ/$file/4-11-23+EA+Agenda.docx"/>Agenda
Criminal Justice Committee Meeting
April 13, 2023
10:00 AM
Video Conference
Agenda
Services and Resources Committee Meeting
April 13, 2023
1:00 PM
Teleconference
Agenda
Legislative and Special Initiatives Committee Meeting
April 20, 2023
4:00 PM
Teleconference
Agenda
Statewide Council on Human Trafficking
April 24, 2023
1:00 PM
Video Conference
Agenda
Direct Support Organization: Florida Alliance to End Human Trafficking
HB 851 created a Direct Support Organization (DSO) for the Statewide Council on Human Trafficking. This DSO met for the first time in August 2019 and incorporated under the name: Florida Alliance to End Human Trafficking. The purpose for which the Corporation is formed is to assist the Statewide Council on Human Trafficking pursuant to Section 16.618, Florida Statutes. For more information, please visit: FloridaAllianceEndHT.com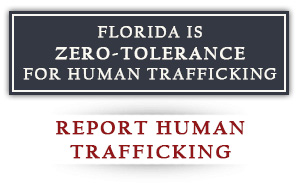 THE NATIONAL
HUMAN TRAFFICKING
HOTLINE
1-888-373-7888

THE U.S. DEPARTMENT
OF JUSTICE HOTLINE
1-888-428-7581

FLORIDA ABUSE HOTLINE
1-800-96-ABUSE

REPORT IT TO YOUR
LOCAL AUTHORITIES